When:
26th May 2018 @ 7:30 pm – 9:30 pm
2018-05-26T19:30:00+01:00
2018-05-26T21:30:00+01:00
Where:
Perth Concert Hall

Part of Perth Festival of the Arts
Tickets on sale 10am Monday 26th March 2018.  Friends book 10am Monday 19th March. Only £10 to join.
Dresden Philharmonic Orchestra
Conducted by Michael Sanderling
With Jennifer Pike (violin)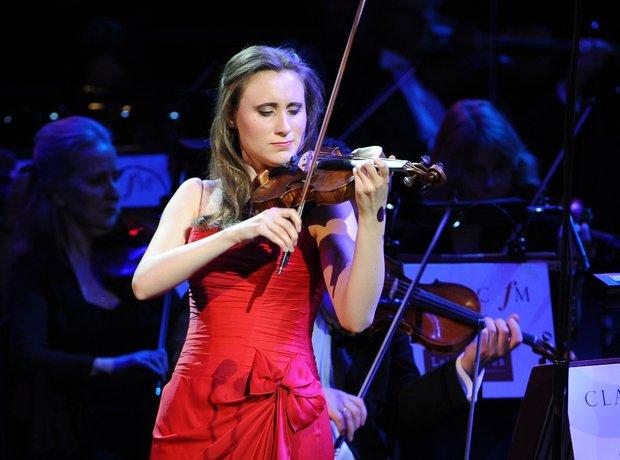 Programme
   – Weber Euryanthe Overture
– Bruch Violin Concerto
– Shostakovich Symphony No. 5
Renowned for her dazzling interpretative flair and exemplary technique (Classic FM), violinist Jennifer Pike has taken the musical world by storm with her unique artistry and compelling insight into music from the Baroque to the present day. In 1989 at the age of 12 she became the youngest-ever winner of the BBC Young Musician of the Year and the youngest major prizewinner in the Menuhin International Violin Competition.
The Dresden Philharmonic can look back on a 150-year-tradition as the orchestra of Saxony's capital Dresden. Ever since 1870, when Dresden was provided with its first large concert hall, its symphony concerts have been an integral element of the city's cultural life. The Dresden Philharmonic has remained a concert orchestra to this day, with regular excursions into concert performance and oratorio. Its homestead is the state-of-the-art concert hall inaugurated in April 2017 in the Kulturpalast building at the heart of the historic district. The principal conductor of the Dresden Philharmonic since 2011 is Michael Sanderling.
18.30 Pre-concert talk by Stephen Johnson "How Shostakovich changed my Mind". Free but ticketed.
BBC music broadcaster and composer Stephen Johnson explores the power of Shostakovich's music during Stalin's reign of terror, and relates how it gave form to the fears and hopes of an oppressed nation. Johnson writes of the extraordinary healing effect of music on sufferers of mental illness and tells of how the music of Shostakovich gave him unexpected strength after struggling with bipolar disorder since adolescence.
Through interviews conducted with surviving members of the Soviet orchestras, through his reading of philosophers, psychoanalysts, and neurologists, Johnson paints a compelling picture of one man's music and its power to validate and sustain another man's life.
'What I'm talking about is not simply my personal 'journey': rather, it's a testimony to the sustaining, uplifting, ultimately restorative power of Shostakovich's music.' 
Yet there is no escapism, no false consolation in Shostakovich's greatest music: this is some of the darkest, saddest, at times bitterest music ever composed. So why do so many feel grateful to Shostakovich for having created it – not just Russians, but westerners like Stephen Johnson, brought up in a far safer kind of society?
Johnson draws on interviews with the members of the orchestra who performed Shostakovich's Leningrad Symphony during the siege of Leningrad, during which almost a third of the population starved to death. In the end, this book is a reaffirmation of a kind of humanist miracle: that hope could be reborn in a time when there was only 'hope against hope'.
Johnson explores recent findings on the subject of the 'musical brain' in which the profound effect of music on the brain is coming to light
Publication ties in with the high profile tour of the St Petersburg Symphony, the same orchestra who played during the siege of Leningrad
Planned collaboration with the Dresden Philharmonic who are performing Shostakovich Symphony No. 5 in the UK in May 2018
Author  B io: Stephen Johnson has taken part in several hundred radio programmes and documentaries, including Radio 3's weekly Discovering Musicseries. He is also presenter on the Classic Arts podcast series Archive Classics. Stephen has made numerous appearances on TV, contributing as guest interviewee on BBC4 coverage of The Proms, ITV's The South Bank Show, and more recently on BBC1's The One Show. He also made an important contribution, both as commentator and narrator, to Tony Palmer's controversial film about the composer Ralph Vaughan Williams, Oh Thou Transcendent, and more recently to Palmer's film about Gustav Holst, In the Bleak Midwinter.